Hearty congratulations for having a baby boy in your home, if he is on the way also the no worries at all.
Here we have listed the best baby boy names with meaning which you are looking for.
So without any further delay, let's dive in deep and explore those awesome and cool unique baby boy names with meaning that you can have for your baby boy.
Unique Names With Meaning For Boy
Leo: Lion. 🦁
Ace: Because your cool little boy is number one!
Asher: Happy.
Kit: Bearing Christ.
Sullivan: Dark eyes.
Kian: Ancient.
Tucker: All heart, fabric pleater.
Reed: Red-haired. 🧑‍🦰
Brody: Muddy place.
Tristan: Bold, riot.
Owen: Young warrior, noble.
Ashish: Blessing from God.
Ross: Headland, horse.
Duke: The leader.
Charlie: Free man.
Romeo: Roman person.
Maverick: Nonconformist.
Gustavo: Royal staff.
Beck: Brook, stream.
Miles: Soldier.
Trevor: Homestead, ambitious.
Brett: From Britain.
Maddox: Fortunate, mad.
Archer: Bowman.
Ravi: Sun. ☀️
Jett: Jet black, stone, airplane.
Karl: Free man, strong man.
Bruce: The willowlands.
Hans: God is gracious.
Jack: Healthy, strong, full of energy.
Connor: Lover of wolves. 🐺
Terrance: Heart. 💖
Jamin: Son of the right hand.
Maxwell: Max's spring or stream.
Abishek: Bathing to God, shower of milk.
Oscar: Friend of deer.
Griffin: Strong lord, mythical creature.
West: Western stream.
Marlon: Little warlike one.
Wyatt: Brave at war.
Casimir: Bringer of peace.
Arlo: Fortified hill.
Gian: God is gracious.
Iggy: Fiery. 🔥
Selma: Beautiful view.
Banks: Lives by the riverbank.
Zaire: River that swallows all rivers.
Elio: Sun.
Branch: Paw, extension, path.
Evander: Strong man.
Bridger: Lives near a bridge.
Colter: One who looks after horses.
Amiri: Princely, east wind.
Khai: Royalty.
Jiraiya: Young thunder.
Palmer: He who holds the palm.
Onyx: Black gemstone.
Harrison: Son of Harry.
Cillian: Bright-headed.
Wylder: Untamed.
Lennox: With many elm trees.
Kiley: Curved, boomerang.
Lance: Servant.
Jonas: Dove. 🕊️
Koen: Brave, bold.
Ozzy: Divine power, deer lover, champion warrior.
Eliam: People of God.
Loyal: Enough said!
Camilo: Priest-helper.
Bear: Just plain cool. 🐻
Edmar: Wealthy sea.
Montana: Mountain. ⛰️
Niko: Victory of the people.
Zane: God is gracious.
Curtis: Polite, courteous.
Zephyr: West wind.
Jonah: Dove, pigeon.
Jay: Win, victory. 🏆
Micah: Who is like God.
Emilio: Rival, trying to excel.
Quinn: Counsel.
Rex: King.
Ajani: The victor.
Grayson: Son of the gray one.
Jameson: Son of James.
Sherlock: Bright hair.
Cash: Like the legendary singer, Johnny Cash.
Luca: Light, sacred wood.
Everett: Brave, strong boar. 🐗
Ethan: Strong and firm.
Landon: Long hill.
Mitchell: Who is like God.
Nowell: Christmas, birth.
Augustine: To increase.
Reece: Enthusiasm.
Jake: Supplanter.
Tashi: Good fortune, auspicious.
Devin: Fawn, poet.
Jackson: Son of Jack.
Zubin: Something that touches the sky.
Jace: Healer.
Esteban: Crown. 👑
Ford: River crossing.
Russell: Red-haired.
Amell: This one has German roots and means "the strength of an eagle."
Ansaldo: This mighty name with Germanic roots means "the power of God."
Arsenio: With its Greek roots, Arsenio means "manly" and "strong."
Buggi: Don't be fooled by the cute sound of this name. From its Nordic roots, it means "powerful man."
Chasin: This Hebrew name simply means "strong."
Egon: This mighty little German name means "strong with a sword."
Farrell: An Irish surname, this powerful name means "man of valor."
Fermin: With its Spanish roots, Fermin means "strong."
Hariric: From Germanic origins, Hariric means "powerful army."
Honovi: A mighty name with Hopi roots, Honovi means "strong deer."
Idris: Fans of Mr. Elba might find this a fitting option. It has Arabic roots and means "smart."
Imre: From Hungarian roots, Imre means "strength."
Malthe: This one has Danish roots and means "rule" or "have power."
Meinrad: With German roots, Meinrad means "strong advisor."
Nero: This supremely powerful Latin name refers to the Roman emperor and means "stern." (So that you can make an informed decision, he was the emperor who fiddled while Rome burned.)
Osiris: In Egyptian mythology, Osiris is the god of both life and death. That's pretty powerful.
Pruitt: With its English roots, Pruitt means "brave one."
Tedmond: Meaning "protector of the land," this English name can be shortened to the adorable Teddy.
Zale: With its Greek origins, Zale means "sea strength."
Artemis: "Twin of Apollo" or "butcher"
Atlas: "To carry"
Bodhi: "Enlightenment"
Chett: "Fortress"
Cosmo: "Order" and "beauty"
Deacon: "Messenger"
Darcy: "Dark-haired"
Enzo: "Home ruler"
Fergus: "Highest choice"
Jaspah: "Bearer of treasure"
Kovan: "King" or "priest"
Langston: "Long stone"
Leor: "I have light."
Mars: "God of war"
Nio: "Bright," "new" or "well born"
Pepper: "Hot spice" 🌶️
Phineas: "Oracle" or "serpent's mouth"
Quill: 🖋️
Quincy: "Fifth"
Remy: "Oarsman"
Rio: "River"
Silas: "Forest"
Story: We probably don't need to tell you this tale.
Taurus: "Bull-like"
Tennyson: "Son of Dennis"
Vance: "Marshland"
Ziggy: "Victorious protector"
Popular cool boy names
Liam: Strong-willed warrior, protector.
Noah: Rest, comfort.
Henry: Home ruler. 🏠
Oliver: Olive tree planter.
Joseph: He will add.
William: Resolute protector, warrior.
David: Beloved.
Lucas: Bringer of light.
Levi: United, joined in harmony.
Theodore: Gift of God.
Aiden: Little fire.
Sebastian: Revered, vulnerable.
Mateo: Gift of God.
Isaac: He laughs.
Thomas: Twin.
James: One who follows, supplanter.
Marco: Warlike.
Ezra: Helper.
Jayden: Thankful, God will judge.
Andrew: Strong and manly.
Lincoln: Lake colony.
Elijah: Jehovah is my God.
Stirling: High quality.
Benjamin: Son of the right hand.
Lawson: Son of Lawrence.
Logan: Little hollow.
Aston: Eastern settlement.
Dean: Valley.
Jacob: Supplanter, to follow.
Christopher: Anointed, Christ-bearer.
Colten: Forged from coal.
Ryan: Little king.
Jai: Victory.
Cameron: Crooked river, crooked nose.
Easton: Enclosure, settlement.
Jordan: To flow down, descend.
Dominic: Belonging to God.
Parker: Park keeper.
Patrick: Nobleman, ruler.
Gabe: God is my strength. 💪
Rare cool boy names
Basil: Brave, fearless.
Colton: Settlement, coal town.
Zayden: Growth, increase.
Elie: God is my help.
Marv: Great Lord.
Rome: After the Italian city.
Reggie: Ruler's advisor.
Thor: After the God of thunder.
Landen: The long hill.
Brogan: Sturdy shoe. 👞
Leonidas: Lion strength.
Maynard: Strength.
Moses: To pull out of water.
Arvin: People's friend.
Lester: Walled city, Roman town.
Dillon: Loyal, like a lion.
Thaddeus: Courageous heart.
Tripp: The third.
Chester: Camp of soldiers.
Guy: Leader, guide.
Ward: Civil guard, keeper of the watch.
Carver: One who carves wood.
Milo: Soldier, merciful.
Keith: Wood, forest.
Scout: To listen.
Zaxton: Gift of God.
Mack: Greatest, son.
Alden: Old friend.
Washington: From the intelligent one's farm.
Dennis: Follower of Dionysus.
Beau: Beautiful.
Irving: Green, fresh water.
Dax: Leader.
Quaid: Son of Uad.
Xander: Defender of man.
Wolf: Perfect if he's howling at the moon.
Randall: Protected, shield. 🛡️
Damon: To overpower.
Kai: Sea, shell, warrior, or earth.
Henley: High meadow.
Ryder: Horseman, rider. 🐎
Ray: Wise protector.
Gillean: Servant of Saint John.
Thurman: Thor's protection. ⚡
Riaz: Garden, meadow.
Linden: Tree of the genus Tilla.
Boy names that mean handsome
Alan | Irish
Amare | Ethiopian
Beau | French
Cavanaugh | Irish
Hassan | Arabic
Jamal | Arabic
Kenneth | Scotch-Irish
Nohea | Hawaiian
Cool names for boys (A-Z)
A
Abraham | Father of multitudes – Hebrew
Ace | One, unity – Latin
Alastair | Defending man – English, Scottish, Gaelic
Alexander | Defending man – Greek
Ambrose | Immortal – Latin
Amos | Carried by God – Hebrew
Anders | Strong and manly – Scandinavian
Anderson | Son of Anders – Scandinavian
Andrew | Strong and manly – Greek
Angus | One strength – English, Gaelic
Armstrong | Strong arms – English, Scottish
Atlas | Greek God name – Greek
Atticus | From Attica – Latin
August | Great, magnificent – German from Latin
Axel | Father of peace – Scandinavian
B
Barrett | Bear strength – German
Beau | Handsome – French
Beckett | Bee hive; little brook or bee cottage – English, Irish
Benedict | Blessed – Latin
Benjamin | Son of the right hand – Hebrew
Boaz | Swiftness – Hebrew
Booker | Scribe, occupational surname – English
Braxton | Brock's town – English
Brent | Dweller near the burnt land – English
Bridger | Lives near the bridge – English
Brooks | Of the brook – English
Bryant | Variation of Brian, strong virtuous, and honorable – English, Irish
C
Caius | Rejoice – Latin
Caleb | Devotion to God – Hebrew
Callum | Dove – Scottish from Latin
Calvin | Bald, hairless – Latin
Camden | Winding valley – Scottish
Cannon | Word name – English
Charles | Free man – French from German
Coleman | Servant of Nicholas – English
Colin | Pup – Irish, Scottish
Conal | Strong as a wolf – Irish
Cormac | Charioteer – Irish
D
Damon | Variation of Damian, to tame, subdue – English from Greek
Dane | From Denmark – English
Dashiell | Page boy – English from French
Dawson | Son of David – Welsh
Dean | Church official – English
Declan | Man of prayer – Irish
Demetrius | Follower of Demeter – Greek
Denzel | From the high stronghold – Cornish
Dominic | Belonging to the lord – Latin
E
Easton | East-facing place – English
Edmund | Fortunate protector – English
Elijah | Yahweh is God – Hebrew
Elliot | Jehovah is God – English from Hebrew
Emmett | Universal – English, German
Evander | Bow warrior; strong man – Scottish, Greek
Everett | Brave as a wild boar – French from German
Ezekiel | God strengthens – Hebrew
Ezra | Help – Hebrew
F
Ford | Dweller at the ford – English
Foster | Forester – English
Frederic | Peaceful ruler – French from German
G
Garrett | Spear strength – Irish
Garrison | Son of Garrett – English
George | Farmer – Greek
Gideon | Hewer; or having a stump for a hand – Hebrew
Grady | Noble, illustrious – Irish
Graham | Gravelly homestead – Scottish
Granger | Worker of the granary – English
Grant | Large Scottish from – French
Gray | Color name – English
Gregor | Vigilant, a watchman – Scottish
Griffin | Strong lord – Welsh
H
Harrison | Son of Harry – English
Hartman | Hard, strong man – German
Harvey | Battle worthy – French
Hayes | Hedged area – English
Holden | Hollow valley – English
Hoyt | Long stick – English
Hudson | Hugh's son – English
Hugo | Mind, intellect – Latin
Huxley | Inhospitable place – English
I
Isaac | Laughter – Hebrew
J
Jack | God is gracious – English
Jacob | Supplanter – Hebrew
Jacoby | Supplanter – Hebrew
Jasper | Bringer of treasure – Persian
Jett | Mineral name – English
John | God is gracious – Hebrew
Jude | Praised – Latin
Julian | Youthful, downy – English from Latin
K
Kenneth | Born of fire, handsome – Scottish, Irish
Kenzo | Strong and healthy – Japanese
Kingston | King's town – English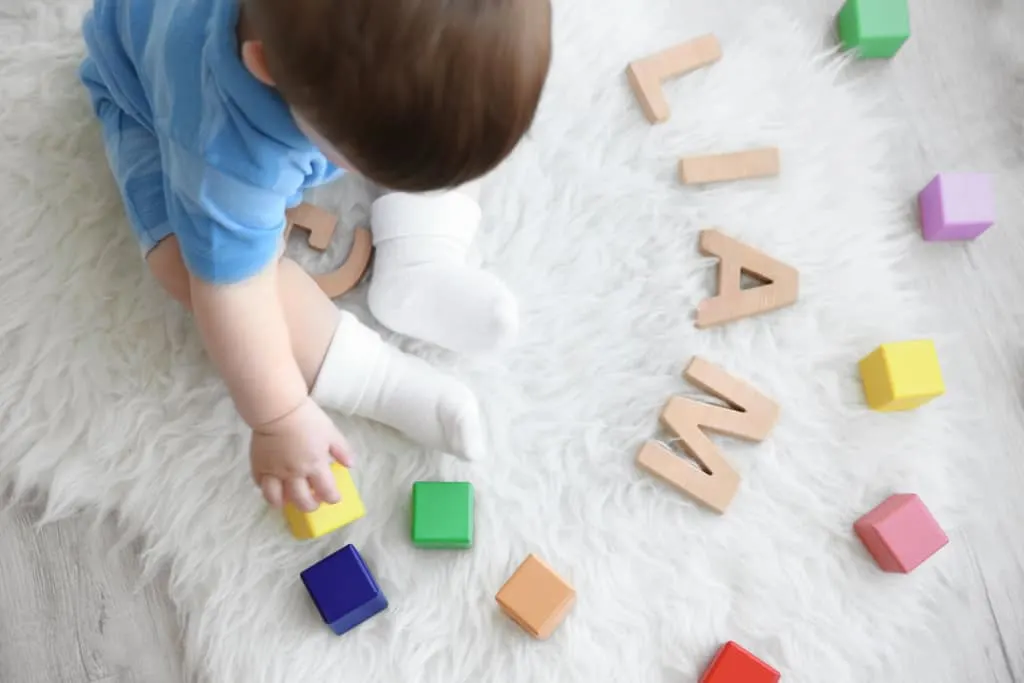 L
Lawson | Son of Lawrence – English
Leland | Meadow land – English
Leo | Lion – Latin
Liam | Resolute protection- Irish
Lincoln | Town by the pool – English
Lorcan | Little, fierce – Irish
Louis | Renowned warrior – German, French
Luke | Man from Lucania – Greek
Lysander | Liberator – Greek
M
Macallister | Son of Alasdair – Scottish
Macgregor | Son of Gregor – Scottish
Mack | Son of – Scottish, Irish
Mateo | Gift of God – Spanish
Maxwell | Great stream – Scottish
Maynard | Hardy, brave, strong – German
Merrick | Fame, power – English, Welsh
Meyer | Bringer of light – Hebrew
Miles | Soldier or merciful – English
Miller | Grinder of grain – English
Montgomery | Man power – English, Scottish from French
N
Nathaniel | Gift of God – Hebrew
Nelson | Son of Neil – English
O
Oakley | Oak wood or clearing – English
Oliver | Olive tree – Latin (or you could spell it Olivier like it is in our huge list of French boy names)
Orlando | Famous through the land – Italian
Orson | Bear cub – Latin and English
Oswald | Devine power – English
Otto | Wealthy – German
P
Peregrine | Traveler, pilgrim – Latin
Philip | Lover of horses – Greek
Pierce | Son of Piers – English
Porter | Gatekeeper – Latin
Powell | Son of Howell – English
Prescott | Priest's cottage – English
Q, R
Rafferty | Floodtide, abundance, prosperity – Irish
Reeve | Bailiff – English
Reid | Red-haired – English
Remington | Place on a riverbank – English
Rhodes | Where roses grow – Greek
Roman | Citizen of Rome – Latin
S
Sampson | Sun – Hebrew
Shepherd | Sheep herder – English
Simon | The listener – Hebrew
Smith | Blacksmith – English occupational name
Solomon | Peace – Hebrew
Sterling | Of the highest quality – English
Sullivan | Black-eyed on – Irish
Sumner | Occupational name – English
T
Tanner | Leather tanner – English
Tate | Cheerful – English from Norse
Thaddeus | Gift of God – Aramaic
Thatcher | Roof thatcher – English
Theodore | Gift of God – Greek
Tiernan | Little lord – Irish
Titan | Defender – Greek
Tobias | God is good Greek from – Hebrew
Tolliver | Metalworker – English
Trenton | Trent's town – English
U,V
Valentino | Strength, health – Latin
Victor | Conqueror – Latin
W
Walker | Cloth-walker – English
Warner | Army – English from German
Westcott | From the western cottage – English
Westley | Variation of Wesley, meaning western meadow – English
Wharton | Farm near the river – English
Whittaker | White field – English
Wilder | Surname or word name – English
Willard | Resolutely brave – English from German
William | Resolute protection – English from German
Willoughby | Farm near the willows – English
Wolf | Traveling wolf – German
Wright | Wagon maker – English
Wyatt | Brave in war – English
X,Y
Yale | Fertile upland – Welsh
York | From the yew estate – English
Z
Zachariah | The Lord has remembered – Hebrew
Zale | Sea-strength – Greek
Zane | God is gracious – Italian, American English from German and Jewish; form of Arabic Zayn
Zephyr | West wind – Greek
Zion | Highest point – Hebrew
That's all for the awesome baby boy names with meaning. Hope you have found this post helpful and informative.
Don't forget to share it with your friends and family who want to name their baby boy.
Thank You 🙂